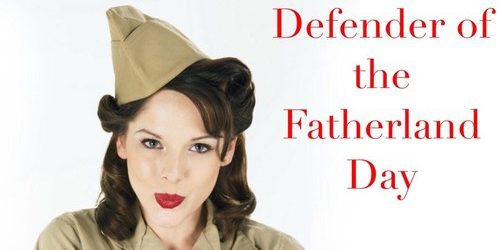 Online dating gives many western men the possibility to date Russian women. And while dating someone with a different cultural background is often rewarding, there are a few things you should learn about your date's country and customs. One thing to learn, for example, is all you can about the Defender of the Fatherland Day and why it is such a big deal for most Russian women.
What is the Defender of the Fatherland Day?
Officially marking the date when the first army people joined the Red Army in 1918, the Defender of the Fatherland Day is a Russian public holiday celebrated on February 23. It is meant to honor those who have served or serve in the army – both men and women. Nationwide celebrations include public events and military parades.
Why Is It So Important for Russian Women?
While most countries celebrate their servicemen or veterans in some way, if you're dating a Russian lady, you'll soon find that this holiday means a big deal for her, even if nobody in her family served the army.
This happens because, unofficially, the Defender of the Fatherland Day is also considered the Men's Day – a holiday intended to celebrate men in a way similar to the Women's Day celebrated on March 8.
As such, on this day, Russian women love to shower the beloved men in their lives with small gifts and attention.
How is This Day Celebrated?
Russian women love to be close to their partners on this day, so chances are she'll want to make arrangements to be with you if you've dated for some time. While it is uncommon for couples to have fancy dinners in restaurants, your Russian lady will most likely want to pamper you with a hearty meal cooked by herself.
Besides a candlelit romantic dinner at home, you can also expect to receive nice gifts from your beloved one.
Not only you'll be spoilt with your beloved's attention; if you plan to visit Russia on this day, you can also attend one of the many parades or events that take place in most cities across the country.
Since this day is a big deal for your Russian girlfriend, you might even want to give her the opportunity to celebrate more intimately and plan a trip for just the two of you.
In a nutshell, the Defender of the Fatherland Day is a day Russian women use to celebrate and cherish the beloved men in their lives, such as their fathers, brothers, and partners. And while the official meaning may have nothing to do with you, unofficially, it's a nice day to let yourself be spoiled by your beautiful Russian date. After all, who would say no to that?